2011: A year of change for Q-C business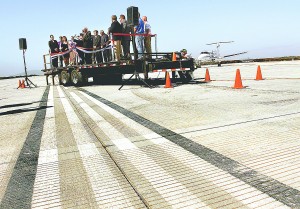 A ribbon-cutting ceremony Thursday marks the completion of the runway 9/27 at the Quad-City International Airport in Moline. (JEFF COOK/QUAD-CITY TIMES)
In the Quad-Cities as well as across the nation, the economy and its ripple effects continued to be at the heart of many of the area's major business stories of 2011.
Joblessness continued to touch many corners of the Quad-Cities, but as a wealth of long-awaited construction projects were begun – and some completed – the building trade industry got a strong boost this past year.
The year began with the loss of a longtime downtown Rock Island anchor. After 90 years in business, Hyman's Furniture announced it was closing the doors of its last remaining store, located in the former McCabe's Department Store. Stanley Goldman, who worked 70 years in the store founded by his father, Hyman Goldman, retired at the end of January.
Goldman, and his wife Ann, were honored with a new award by the city and Renaissance Rock Island for their lifelong support of downtown. The family's legacy continued to unfold as late as December when demolition began on a portion of the 2nd Avenue row of stores they had donated to Rock Island Economic Growth Corp., or Growth. The site will become a parking lot to serve nearby businesses.
In February, Cobham Mission Systems of Davenport was selected by Boeing Co. to provide hose and drogue aerial refueling systems for use on the U.S. Air Force's new KC-46A Tanker Aircraft. The estimated $1 billion contract will mean a to-be-determined number of additional jobs at the west Davenport plant, which employs 400. The former Carleton Life Support Systems, located at 2734 Hickory Grove Road, produces respiratory life-support systems for aerospace, medical and commercial uses.
After helping to shepherd through the merger of the Illinois Quad-City and Iowa Quad-Cities chambers of commerce in 2010, Rick Baker announced in early March that he was leaving for a new challenge. Baker, who served as president and chief operating officer of the new Quad-Cities Chamber of Commerce, accepted a position as president and chief executive officer of the Grand Rapids Area Chamber of Commerce in Michigan.
Just days later, the Quad-Cities Chamber rolled out a growth strategy at its first Report to the Region. Chamber CEO Tara Barney told chamber members that the strategy aims to generate $2.8 billion in new wealth through the creation of 5,000 primary jobs over the next five years.
In addition, the chamber set a goal of raising its economic strength ranking with Policom, an independent research firm. At the time, the Quad-Cities ranked 178th out of 366 U.S. metropolitan areas, but it is aiming for a ranking of 90th.
Also by early March, downtown Davenport and Hotel Blackhawk had welcomed three new businesses to the newly renovated historic hotel: Spa Luce and Milan Flower Shop Quad-Cities are independently owned, and Beignet Done That is the hotel's own coffee shop/café.
Not far behind, Blackhawk Bowl & Martini Lounge opened in May in the site of the original Blackhawk Hotel's bowling alley. The new business closed temporarily a month later when a rain storm overwhelmed a storm water pipe and caused considerable flooding and damage.
Throughout its first year, Hotel Blackhawk captured accolades and awards and even played host to President Barack Obama and his entourage when he was here in June to speak at Alcoa Davenport Works.
In April, the Quad-City International Airport launched construction of a $34 million runway reconstruction project. The long-awaited project involved closing down the airport's three main runways during construction and diverting all traffic to a temporary runway built the year before. The project was completed in September, nearly a month ahead of schedule.
In addition to the runway project, the airport saw construction of a new John Deere hangar, a new fuel farm for the airport's commercial carriers and an expanded parking lot for airport employees and rental cars.
The completion of the sale of Jumer's Casino & Hotel in Rock Island to its new owners, Delaware North Companies, was celebrated with a party in May. The $180 million business deal was first announced in September 2010. Delaware North, owned by members of the Jacobs family of Buffalo, N.Y., honored the Jumer family by naming the large ballroom as the D. James Jumer Event Center. The Jumer name also has been retained for the casino.
In December, the city of Rock Island hired a Wisconsin consultant to do a development feasibility study for a 90-acre tract at the northeast corner of Interstate 280 and Illinois 92. The city wants to see a mega commercial site developed there.
The month of June saw both positive and negative economic news across the region. First came the announcement that R.R. Donnelley & Sons' decision to close its Eldridge plant effective July 31. Weeks later, 3M celebrated plans for a $90 million expansion at its plant in Cordova, Ill.
Chicago-based Donnelley's decision displaced 279 workers, many of whom had worked for the plant's predecessors: Bawden Printing and Von Hoffman.
Also, 3M said its expansion will help the company meet the increasing demand for its next generation of technologies, including its Novec brand products, some of which already are made there. The expansion is expected to add 20 new jobs.
The Quad-City International Airport suffered a major blow in August when AirTran Airways announced it was pulling out of the market effective Jan. 6. The low-fare carrier, now a subsidiary of Southwest Airlines, said it was ceasing operations at four airports early this year.
AirTran's announcement came eight months after the airline pulled its direct service between the Quad-Cities and its Atlanta hub. The loss of that service has led to declining passenger numbers at the Quad-City airport, where officials expect to end the year about 12 percent below 2010's enplanements.
Read more: http://qctimes.com/business/a-year-of-change-for-q-c-business/article_c53f238a-3436-11e1-bd4e-0019bb2963f4.html#ixzz1iGfO5G32
*****************************************
California Aviation Alliance: Airport News List E-mail
Sent by AviaEd@netscape.net – Lorena de Rodriguez on behalf of CAA subscribers. Add your comments to these stories realtime online at http://aviaed.wordpress.com/.
To subscribe or unsubscribe to the Airport News List, send an email, from the email account you wish to receive or discontinue CAA posts on, addressed to imailsrv@californiaaviation.org and place only the following in the first line of the body of the message: Subscribe airport YourFirstName YourLastName YourJobTitle YourAirport/Company
Manage your CAA subscriptions with the user friendly Mail List Administration database. You'll find it at: http://californiaaviation.org/cal/index.cfm
Contact stepheni@cwnet.com with problems with your subscription.