Avatars to Assist at Area Airports
Monday, May 21, 2012 By Jim O'Grady : WNYC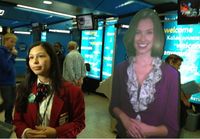 Enlarge
A human customer service representative talks to reporters at LGA airport. To her left is a newly unveiled customer service avatar.

(Jim O'Grady/WNYC)
The Port Authority of New York and New Jersey is beefing up customer service at area airports — and getting some James Cameron-style help in the form of avatars.
The avatar will be seen on a device that is a life-sized flat screen in the shape of a woman. She will dispense flight information and tips about services like shuttle bus and taxi pick-ups. It activates when a customer approaches.
Port Authority Executive Director Pat Foye unveiled one of the computerized, talking avatars at a press conference at LaGuardia Airport Monday morning. He said the machines are meant to supplement the airport's 350 flesh-and-blood customer representatives, who will soon be joined by 70 new hires.
However, the avatars are not interactive. Foye said he hopes a future iteration of the talking machines will hold conversations with passengers.
A total of five avatars are scheduled for installation at LaGuardia, JFK and Liberty Newark airports in early July.
The Authority also unveiled new airport apps and dozens of new information kiosks and electronic device charging stations to help travelers.
*****************************************
California Aviation Alliance: Airport News List E-mail
Sent by AviaEd@netscape.net – Lorena de Rodriguez on behalf of CAA subscribers. Add your comments to these stories realtime online at http://aviaed.wordpress.com/.
To subscribe or unsubscribe to the Airport News List, send an email, from the email account you wish to receive or discontinue CAA posts on, addressed to imailsrv@californiaaviation.org and place only the following in the first line of the body of the message: Subscribe airport YourFirstName YourLastName YourJobTitle YourAirport/Company
Manage your CAA subscriptions with the user friendly Mail List Administration database. You'll find it at: http://californiaaviation.org/cal/index.cfm
Contact stepheni@cwnet.com with problems with your subscription.