Man held in Luton airport cleaning fluid security scare
Police and firefighters called in and check-in suspended at Luton airport after cleaning fluid found in checked-in bag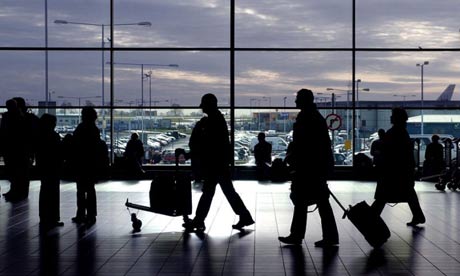 Check-in was suspended at Luton airport after cleaning liquid leaked from a man's bag. Photograph: Kirsty Wigglesworth/PAA man was arrested at Luton airport today after attempting to take a suspect liquid aboard a flight.
Police and firefighters were called in after fluid leaked from a bag. The liquid was discovered in baggage the man had checked in, prompting a security alert and the suspension of check-in procedures.
An airport spokesman said: "An unknown substance was discovered in the baggage area of the airport. As a precaution the area was evacuated as investigations were taking place. The substance was subsequently identified as cleaning fluid."
A police statement said: "Bedfordshire police were alerted by Luton airport at 7.26 this morning after a security alert. A man was arrested for taking an illegal substance on board a plane and is currently in custody. It is not thought to be a terrorist threat."
The airport said the check-in suspension was still in place and could cause delays, but passengers should go to the airport as planned.
guardian.co.uk © Guardian News and Media Limited 2010
*****************************************
California Aviation Alliance: Airport News List E-mail
Sent by AviaEd@netscape.net – Lorena de Rodriguez on behalf of CAA subscribers. Add your comments to these stories realtime online at http://aviaed.wordpress.com/.
To subscribe or unsubscribe to the Airport News List, send an email, from the email account you wish to receive or discontinue CAA posts on, addressed to imailsrv@californiaaviation.org and
place only the following in the first line of the body of the message:
Subscribe airport YourFirstName YourLastName YourJobTitle YourAirport/Company
Manage your CAA subscriptions with the user friendly Mail List Administration database. You'll find it at: http://californiaaviation.org/cal/index.cfm
Contact stepheni@cwnet.com with problems with your subscription.