Post-Sept. 11 security chafes Wyoming residents
By JOAN BARRON Star-Tribune capital bureau | Posted: Monday, September 5, 2011 7:00 am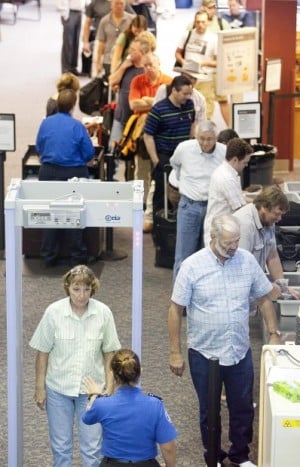 TIM KUPSICK | Star-Tribune
Airline passengers go through security screening at the Casper/Natrona County International Airport on Friday. Wyomingites' lives have changed in many ways since the Sept. 11, 2001, attacks, but they find air travel the biggest hassle.
CHEYENNE — Wyoming residents were anxious and angry after the shock and horror of the Sept. 11, 2001, terrorist attacks on New York and the Pentagon.
They eagerly embraced patriotism and its symbols.
For weeks and months, American flags fluttered from cars and trucks and blossomed in front yards.
Over time the fervor waned and the faded flags disappeared.
Helicopter patrols over Cheyenne and F.E. Warren Air Force Base lessened, then ceased. Security officials removed the concrete blocks that had been mounted in front of federal buildings.
Life returned to semi-normal.
During the past decade, residents have witnessed two wars and endured a steep economic downturn that cost them money.
Many say they don't feel as secure and as confident in their government as they did before the terrorists' attack, the first of its type on U.S. soil and against civilians.
When it comes down to the major effect of Sept. 11 on them personally, some residents cite the frustrations of heightened security, primarily airport security, rather than any residual emotional reaction or inclination to paranoia.
"Flying," Harmon Davis of Cheyenne answered quickly when asked the main post-Sept. 11 effect on him personally.
"I don't travel that much but when I do it's much more complex and much more frustrating and tiring and ridiculous," he said.
"My way of looking at it is the terrorists won," Davis added.
Davis said he and his wife encounter the same security hassle when they go on a cruise and must produce documents and other proof that they are not dangerous.
People do adapt to these restrictions, however frustrating.
One change in his thinking, Davis said, is that he is "constantly aware of the fact that it was almost a random event and it doesn't matter how prepared we are, the terrorists are going to somehow work around that."
"If you look at life as a random event, there are things you can control and there are things you can't control," he added. "Worrying about it doesn't do any good."
High level of anxiety
Holly Dorst of Laramie, a counselor and certified trauma therapist, said she saw a lot of generalized anxiety disorder in her clients after Sept. 11.
"It seems to pretty much have died down, but people are really tense, so anything that looks like it could be more serious than it ends up puts everyone on high alert," she said. "I think the level of stress has been very high since then."
She said some people seem to be more fearful of flying and wary of Muslims.
Identifying any specific changes is difficult because people adapt over 10 years and don't recognize changes in their own lives.
"I think we're more cautious than we used to be and have a higher level of anxiety, especially that I see in my clients," Dorst said.
Lovell Police Chief Nick Lewis said Sept. 11 changed the focus of law enforcement.
When he started in law enforcement in 1979, the focus was on local crime and local people. That limited scope broadened as a result of the terrorist attacks.
"People were on heightened sense of awareness of strange people, packages, letters," Lewis said.
Lewis' department upgraded its communications system with money from the Office of Homeland Security, which the federal government created in the wake of Sept. 11.
Although the police always performed preplanning for public events, the effort became more complex because of the need to prepare for such things as biological events or dangers to livestock.
"It went from you just worry about your own little circle here to now you have to stay tuned into national and international events, even in Lovell, Wyoming," he said.
For Jake Korell, who lives on a farm near Riverton, security, including airport security, isn't a problem.
At 97 years old, he no longer flies.
To him the biggest impact of Sept. 11 was on his finances.
Although Korell supports the wars in Iraq and Afghanistan, he blames Congress for overspending and for failing to regulate the financial industry.
People are resilient
Because Wyoming is a long way from ground zero, people here were not as affected psychologically by the attacks as people in New York.
Yet, even people who were at or near ground zero adjust pretty well eventually.
Research says long-term post-Sept. 11 emotional and psychological problems such as anxiety and depression are exceedingly rare, said Max Gray of the University of Wyoming's Department of Psychology.
"Human resiliency is the norm," Gray said.
"In the immediate wake of a traumatic event, whether it's large-scale mass violence or disaster or a more personal type of assault, almost everyone has significant distress, anxiety in the first few weeks, but that's a normal and appropriate reaction," he said.
"If you ask people if they were upset in the wake of 9/11, they would say, 'Yes, it was a harrowing time."
But now they don't report suffering anxiety or depression.
"And that's not to suggest it's not a significant historical event," Gray said. "We should be happy that human strength and resiliency is the norm."
Before a lot of research was performed, old-school psychology held that people who experienced such trauma would probably be scarred for life and would require years of psychotherapy.
The terrorist attacks changed history, policy and perhaps people's personal views of the world.
Yet a decade later, psychological disorders related to the disaster are fairly uncommon, even among residents of lower Manhattan, and are "exceedingly uncommon" in people not directly exposed to the attack.
One research article cited by Gray and published in "American Psychologist," said the prevalence of Post-Traumatic Stress Disorder in adults diminished in the years following the attacks.
Researchers found an exception in groups of rescue and recovery workers, retired firefighters and children who experienced an increase in PTSD symptoms in subsequent years after Sept. 11.
"Humans possess an impressive capacity to adapt to extremely adverse situations," the research article said. "Most studies of 9/11-related PTSD documented that significant proportions of the samples studied were either not affected or only minimally affected by the attacks."
Reduced freedoms
An immediate effect of the terrorist attacks was a tightening of government authority, said James King, head of the University of Wyoming's Political Science Department.
Domestic surveillance increased and Congress quickly enacted the Patriot Act.
"I think you saw a shift to acceptance of presidential authority, certainly in international affairs," he said.
Although there was screening at airports before Sept. 11, it was ratcheted up significantly afterward, along with other security precautions that personally affect people.
"They reduce our freedoms," King said. "It takes us longer to get through an airport. There are little things like that that affect individual lives."
Although there have been no large-scale terrorist attacks in the U.S. since Sept. 11, no one knows if the changes in security were responsible.
"We don't know how many of those things didn't occur that otherwise would have occurred," King said. "There's no way of knowing that."
It was the same during World War II when Japanese Americans were relocated inland. No sabotage acts occurred in the U.S. immediately following the relocation, but no one could say the relocation program was responsible.
Contact capital bureau reporter Joan Barron at 307-632-1244 or joan.barron@trib.com.
Read more: http://trib.com/special-section/sept11/article_f35e295e-b793-55c9-b3b7-154f42402142.html#ixzz1XBJ38xr3
*****************************************
California Aviation Alliance: Airport News List E-mail
Sent by AviaEd@netscape.net – Lorena de Rodriguez on behalf of CAA subscribers. Add your comments to these stories realtime online at http://aviaed.wordpress.com/.
To subscribe or unsubscribe to the Airport News List, send an email, from the email account you wish to receive or discontinue CAA posts on, addressed to imailsrv@californiaaviation.org and place only the following in the first line of the body of the message: Subscribe airport YourFirstName YourLastName YourJobTitle YourAirport/Company
Manage your CAA subscriptions with the user friendly Mail List Administration database. You'll find it at: http://californiaaviation.org/cal/index.cfm
Contact stepheni@cwnet.com with problems with your subscription.