TSA error causes big delays for Texas airport
Posted: Dec 26, 2010 8:32 AM Updated: Dec 26, 2010 10:18 AM Sunday, December 26, 2010 12:18 PM ESTSunday, December 26, 2010 10:32 AM EST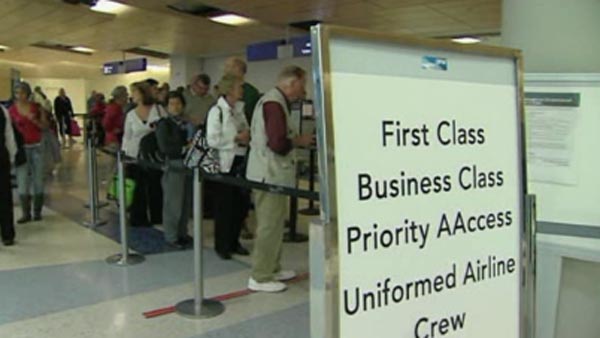 (Source: CNN)
Click image to enlarge
DALLAS (CNN) – The Transportation Security Administration (TSA) was unable to find a woman who breached a security checkpoint at a Texas airport Christmas day, despite a manhunt that left more than 100 flights delayed.
The TSA said agents spotted something suspicious while an elderly woman went through a full-body scanner at the Dallas Fort Woth International Airport.
By the time security agents tried to pull the woman aside for additional screening, she'd already moved into the terminal.
TSA described the slip-up as a minor error, although it sparked a manhunt throughout the entire airport. Security agents mobilized the command post. Officers searched terminals for the women, whose photos were given to gate agents.
In the process, officers held dozens of flights in order to search planes.
"That breach delayed more than 100 flights coming in and out of the airport," said Jonathan Betz, with Dallas Forth Worth International Airport. "Some passengers had to wait up to two hours."
After hours of searching, agents still were not able to locate the woman.
Agents said she did nothing wrong and likely didn't even realize security had flagged her.
Copyright 2010 CNN. All rights reserved.
*****************************************
California Aviation Alliance: Airport News List E-mail
Sent by AviaEd@netscape.net – Lorena de Rodriguez on behalf of CAA subscribers. Add your comments to these stories realtime online at http://aviaed.wordpress.com/.
To subscribe or unsubscribe to the Airport News List, send an email, from the email account you wish to receive or discontinue CAA posts on, addressed to imailsrv@californiaaviation.org and place only the following in the first line of the body of the message: Subscribe airport YourFirstName YourLastName YourJobTitle YourAirport/Company
Manage your CAA subscriptions with the user friendly Mail List Administration database. You'll find it at: http://californiaaviation.org/cal/index.cfm
Contact stepheni@cwnet.com with problems with your subscription.