TSA Pats Down 6-Year Old Girl In New Orleans Airport (VIDEO)
First Posted: 04/13/11 11:55 AM ET Updated: 04/13/11 11:55 AM ET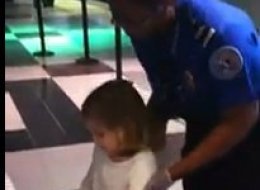 AOL Travel News:
A new video on YouTube is causing an uproar, as critics question why Transportation Security Administration (TSA) agents at the New Orleans airport gave an intense pat-down to a 6-year-old girl.
The video shows a female TSA agent explaining the security procedure to the child's mother and then having the 6-year-old girl spread her arms and legs for the pat-down, which includes "sensitive areas," in the words of the agent.
Read the whole story: AOL Travel News
*****************************************
California Aviation Alliance: Airport News List E-mail
Sent by AviaEd@netscape.net – Lorena de Rodriguez on behalf of CAA subscribers. Add your comments to these stories realtime online at http://aviaed.wordpress.com/.
To subscribe or unsubscribe to the Airport News List, send an email, from the email account you wish to receive or discontinue CAA posts on, addressed to imailsrv@californiaaviation.org and place only the following in the first line of the body of the message: Subscribe airport YourFirstName YourLastName YourJobTitle YourAirport/Company
Manage your CAA subscriptions with the user friendly Mail List Administration database. You'll find it at: http://californiaaviation.org/cal/index.cfm
Contact stepheni@cwnet.com with problems with your subscription.