Justin Faulconer | Posted: Saturday, July 26, 2014 5:22 pm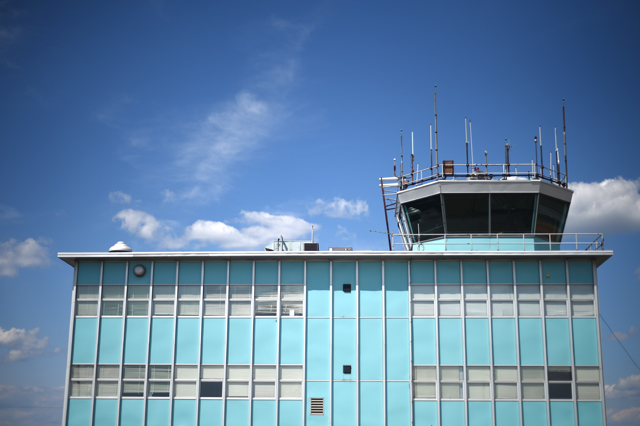 Lynchburg regional control tower
The control tower at Lynchburg Regional Airport is seen last Thursday. Plans have been made to demolish the old tower and build a new, modern tower.
A new air traffic control tower is planned for takeoff next spring at the Lynchburg Regional Airport.
The near $3 million project includes constructing and operating a new 75-foot-tall tower, including antennas and lightning rods, and tearing down the current structure on the western portion of the airport that has been in use since 1963.
Construction is expected to start in May 2015 on a site that is about 200 feet south of the current tower facility, and last for about six months.
Financing the project would potentially come from the Federal Aviation Administration, the Virginia Department of Aviation, passenger charges and other local funding, a draft environmental assessment report from the city states.
The current tower is situated atop a three-story office building. Commencing operations the year President Kennedy was assassinated, the antiquated facility has its share of problems.
The structure is outdated, requires high maintenance costs, is functionally obsolete and contains asbestos, among other issues, according to the city report.
Airport Director Mark Courtney said utilities in the current tower are "ridiculous" and a new building with three to four floors and a control tower tab is much needed.
"Overall, it's going to be a real win-win for the airport," Courtney said of the project.
The average life span for an air traffic control tower is about 25 years to 30 years, according to the U.S. Department of Transportation.
Since 2009, the report says more than $40,000 has been spent in nonrecurring maintenance costs such as repairs to leaks, replacing the control cab roof and carpet and multiple upgrades to the heating, ventilation and air-conditioning system.
"In time things wear out," said Courtney. "You have to replace them."
The current tower does not meet FAA security requirements, the report says. Doors need changing from glass to steel and added fencing and gates are called for.
The closest residential area is approximately a quarter-mile northeast from the project. The city report says all construction work would not affect any properties out-side of the airport.
The city has in place an airport safety overlay district to regulate and restrict the height of structures within departure and approach paths of the airport. The overall height of the new tower is proposed at about 15 feet taller than the current structure, according to plans.
The existing tower is a lot less occupied today than it has been in the past. The structure previously housed offices of the National Weather Service, Flight Service Station and FAA, but those relocated through the years and the majority of office space is now unoccupied.
Courtney said the new tower would be on an ideal spot and have potential to expand room if the FAA needs it.
The tower was under threat to close last year as part of an FAA-considered action to make up for $600 million in spending cuts.
A congressional measure redirected some FAA capital funds to keep the 149 contract towers slated for closure – including Lynchburg's – open.
Courtney said controversy over the potential closures last year has not halted plans for the new tower. The signs from Washington are "very, very encouraging" toward the contract tower program and there is no indication funding would not be available, he said.
"We are pretty confident we are going to be successful (with funding)," he said. "We got a lot of understanding and support from Congress."
Lynchburg's airport has seen a surge in growth in recent years, which Courtney said should be helpful for long-term survival if drastic budget cuts arise once again.
Airport craft operations so far through 2014 are up 12 percent compared to a year ago, he said. Out of 515 control towers in the country, he said Lynchburg's tower ranked 128 in traffic volume in the '13 federal fiscal year.
The airport projects about 130,000 air traffic operations this year and is the third busiest in Virginia in overall activity, he said. Much of the surge has to do with training for Liberty University's School of Aeronautics, Courtney said.
Each year brings some element of funding uncertainty for the airport and its tower arrangement, he added.
"You have to keep moving," he said. "That is the federal budget environment we live under."
*****************************************
California Aviation Alliance: Airport News List E-mail
Sent by
AviaEd@AIM.com
– Lorena de Rodriguez on behalf of CAA subscribers. Add your comments to these stories realtime online at
http://aviaed.wordpress.com/
.