Willow Run Airport to get additional air traffic controller as FAA responds to national incidents
Posted: Apr 13, 2011 at 5:53 PM [Today]
The Federal Aviation Administration said today that it would add an overnight air traffic controller to Ypsilanti's Willow Run Airport, part of a plan to boost overnight operations at 27 airports nationwide.
The move is a response to recent incidents in which air traffic controllers fell asleep or were not properly responsive to incoming planes.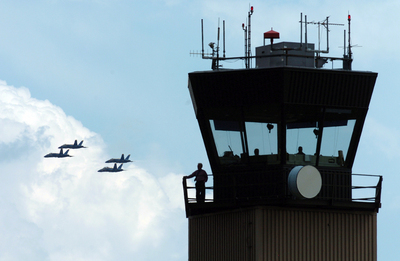 Willow Run Airport's control tower will get an additional controller for its overnight shift.
File photo | AnnArbor.com
Willow Run Airport has not had any similar incidents, but the airport was operating with just one air traffic controller on the midnight shift.
"Instead of one controller overnight there will be two," said Tony Molinaro, a spokesman in the FAA's Great Lakes public affairs office. "We're changing the schedule so that another one will be scheduled overnight."
The move is designed to ensure the safety of incoming and outgoing flights at the airport, which handles cargo traffic and charter planes.
It's also a win for the Wayne County Airport Authority, which operates Willow Run Airport and had been trying to convince the FAA not to shut down its overnight operations here.
Willow Run Airport, which is located next to the shuttered former General Motors transmission manufacturing plant, is a key piece of the regional "Aerotropolis" initiative, which seeks to generate jobs by attracting shipping companies to set up operations near local airports.
"We've been talking for quite a while with our congressional delegation and the FAA to try to staff up Willow Run," said Scott Wintner, a Wayne County Airport Authority spokesman. "Up until these high-profile incidents, the question was, does Willow Run even need a controller overnight? The answer was yes."
In the latest air traffic control incident, a controller at Reno-Tahoe International Airport this morning "fell asleep while a medical flight carrying an ill patient was trying to land," the FAA said. The plane landed safely, but the controller was suspended.
In other recent incidents, air traffic controllers fell asleep in Seattle and Washington D.C., according to Reuters.
"I am totally outraged by these incidents. This is absolutely unacceptable," Transportation Secretary Ray LaHood said today in a statement. "The American public trusts us to run a safe system. Safety is our number one priority and I am committed to working 24/7 until these problems are corrected."
Wayne County Airport Authority reported that cargo traffic at Willow Run Airport and Detroit Metro Airport increased 12.6 percent year-over-year in February to 35.4 million pounds. Willow Run Airport handles about 200 million pounds of cargo annually.
The FAA operates air traffic control towers independently of airports.
*****************************************
California Aviation Alliance: Airport News List E-mail
Sent by AviaEd@netscape.net – Lorena de Rodriguez on behalf of CAA subscribers. Add your comments to these stories realtime online at http://aviaed.wordpress.com/.
To subscribe or unsubscribe to the Airport News List, send an email, from the email account you wish to receive or discontinue CAA posts on, addressed to imailsrv@californiaaviation.org and place only the following in the first line of the body of the message: Subscribe airport YourFirstName YourLastName YourJobTitle YourAirport/Company
Manage your CAA subscriptions with the user friendly Mail List Administration database. You'll find it at: http://californiaaviation.org/cal/index.cfm
Contact stepheni@cwnet.com with problems with your subscription.